Welcome to the Blanc-Martel shuttle reservation website (opening on April 14, 2023)
This bus service allows hikers to reach trails in the Gorges du Verdon, including the famous Blanc-Martel trail. This 15 kilometre-long trail isn't a loop and the Blanc-Martel shuttle bus allows you to link the trailhead and trail end without having to use two cars!
The Blanc-Martel shuttle bus starts up again from Friday, April 21 2022 until the beginning of November.
The Blanc-Martel shuttle bus leaves every morning, leaving from La Palud-sur-Verdon, for Chalet de la Maline (Blanc-Martel trailhead) and does the return trip in the afternoon from Rougon, leaving from Point Sublime (Blanc-Martel trail end) for La Palud-sur-Verdon.
The shuttle will run
from April 21 to June 30 and from September 30 to November 5 : week-ends (Friday, Saturday and Sunday, as well as public holidays and long week-ends
from July 1 to September 29 : every day

Depending on the time of year, it is linked with the ligne régionale autocar 450 (Riez - Castellane). These links also allow the inhabitants of Castellane and visitors to come and hike without having to take their vehicles. They of course allow access to the Blanc-Martel trail and to the hike without using a vehicle. But it also gives hiking enthusiasts an opportunity to get to the multitude of trails in the Gorges easily.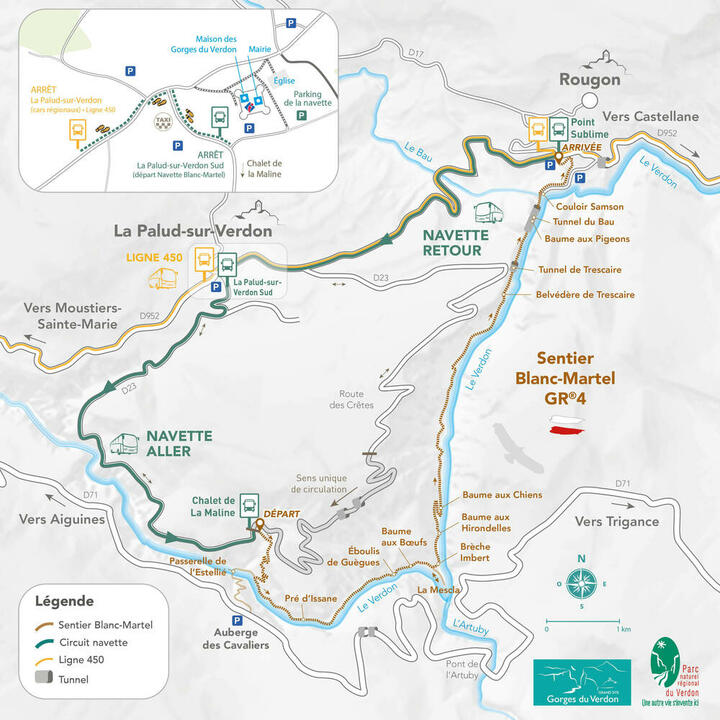 How does it work?
Hikers can either take the regional lines to the village of La Palud-sur-Verdon, or come with their vehicle to La Palud-sur-Verdon and leave it in one of the dedicated parking areas.
From there, you can board the shuttle which will take you to the trailhead (Chalet de la Maline). The return trip to Palud-sur-Verdon runs in the same way (from the trail end, at Point Sublime in Rougon). More info in the "Access" section.
But above all, you must book your seat!
A problem? You have a question? All our replies in Frequently Asked Questions.
The pros of getting to the trails without your car:
• Easier because the parking areas in the Gorges are often full.
• You'll be less tired, and safer: after several hours of hiking, it feels really good to be taken back.
• Better for the environment, thanks to the kilos of CO2 avoided.
• And better for your budget too!