An emblematic hike in the heart of the Gorges du Verdon, between Chalet de la Maline (La Palud-sur-Verdon) and Point sublime (Rougon) with magnificent landscapes and breathtaking viewpoints.
One way trip - 15 km - about 5 h 30 (no stop) - 600 m elevation
Because this trail is not a loop, the Blanc-Martel shuttle service enables you to link the trailhead and trail end without having tu use two cars.
You have about 6h45 to do this hike by taking the shuttle.
The emblematic Blanc-Martel trail bears the name of its two famous inventors and allows you to go deep into the Gorges du Verdon. You will follow the river course, from Chalet de la Maline to Le Point sublime, where the views are superb and often unbelievable.
You will walk along beside the river and sometimes above it and you will have to climb steps and go through tunnels.
Varied wildlife (chamois, griffon and cinereous vultures, etc.) all live around this river which has been tamed by several dams.
Caution, this is a difficult hike and can be extremely tiring. The Blanc-Martel trail is 15 km long and has some technical passages and a climb at the end. You need to be quite fit.
Some practical advice
Not recommended for small children. Forbidden to dogs and mountain bikes due to the passages with steep stairs.
Avoid this trail if you suffer from vertigo.
Caution, be extremely careful if you get near the banks of the river, the level of the water can rise very fast depending on the activity in the dams upstream.
Bathing is dangerous and strictly forbidden
Equipment: hiking boots, a torch for the tunnels, at least 2 litres of water per person, a picnic, a warm jacket and a hat.
Best season: spring and autumn are the best times to enjoy this hike. It is best to avoid the trail in July and August because of the heat and the number of people on the trail and in winter for safety reasons (frequent rockfall).
Download : Trailmap on "Chemins des Parcs" website (with map and technical description)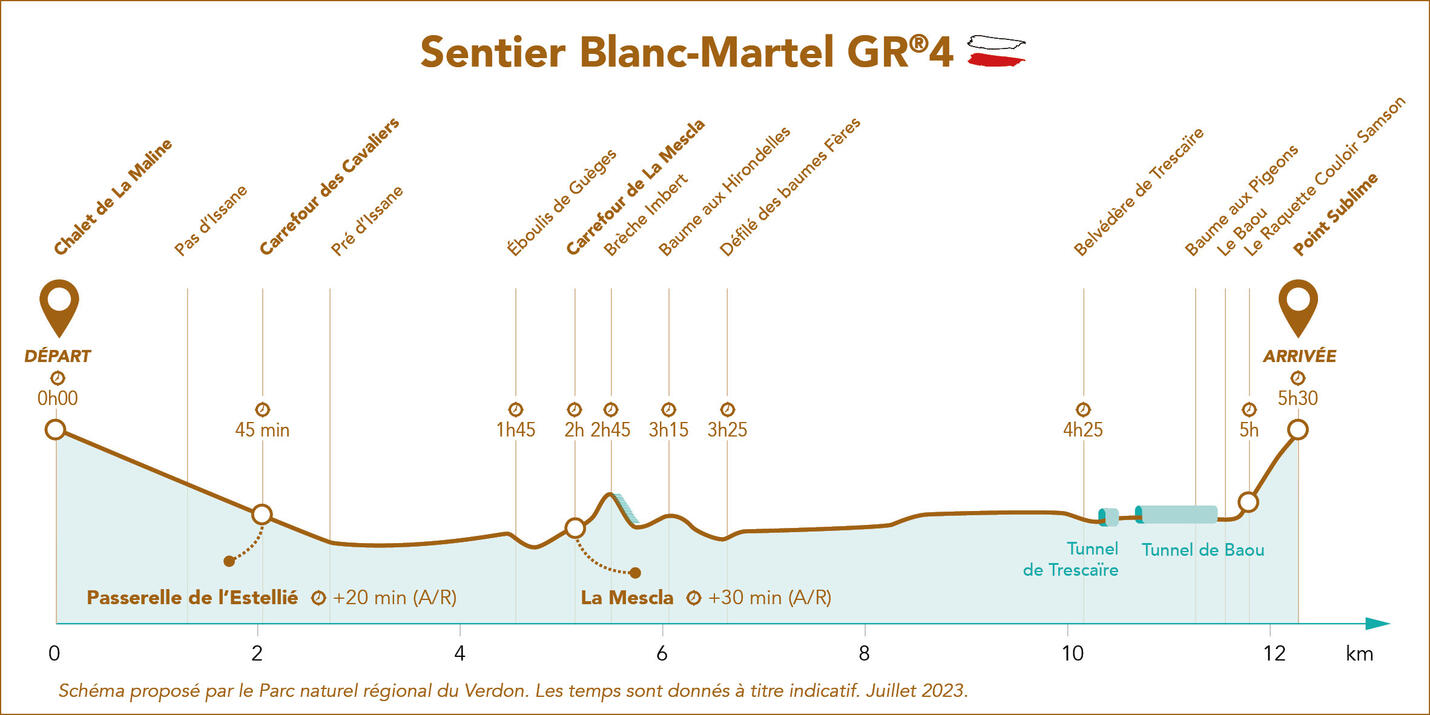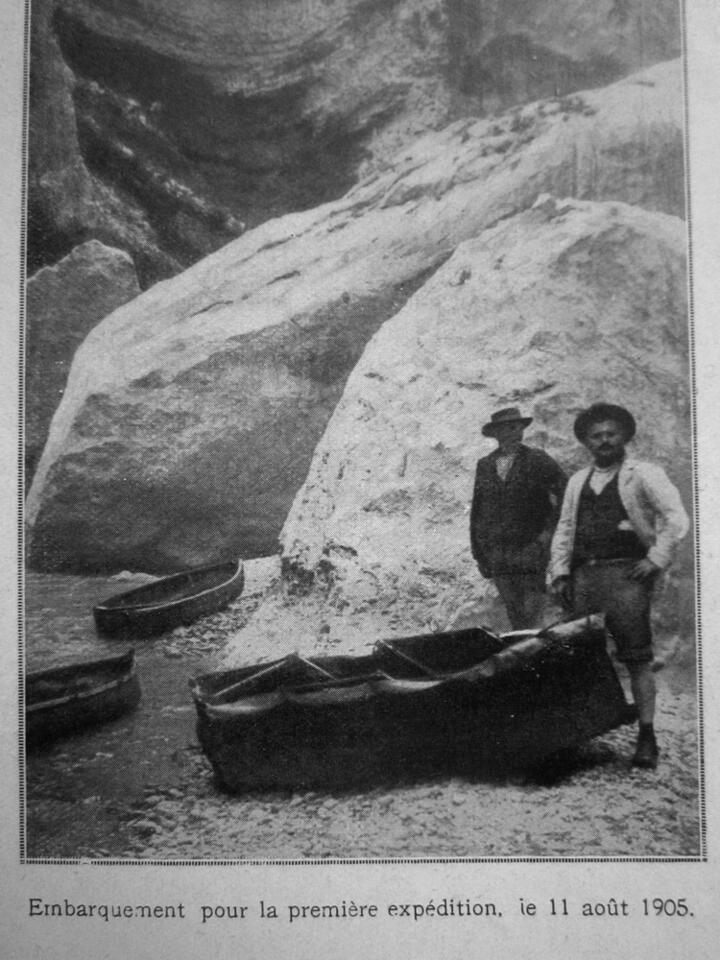 A bit of history
Before the beginning of the 20th century, the Gorges du Verdon had never been explored along the course of the river between the Couloir Samson and the Pont du Galetas. In 1905 Edouard-Alfred Martel, considered to be the founder of modern spelunking, with assistance from Isidore Blanc, a schoolteacher in Rougon, explored the gorges in their entirety. The exploration, carried out in 3 days using collapsible canoes was far from being a joy ride and the members of the expedition had to show tremendous courage when taming the rapids in the Verdon whose course had not yet been regulated by the dams.